Current Unsolved Crimes
Virginia Beach Police need assistance.  On June 11, 2015, between 2:30 and 3:30 am, four unidentified suspects came onto Landstown High School property without permission.  The suspects then used spray paint to paint obscene material on the outside walls of the school and sidewalk.  Eggs and toilet paper were also left littering the school grounds.
On May 18, 2015 between 11:30 a.m. and 1:15 p.m., the victim's purse was stolen from her car which was parked at 1952 Laskin Road.  Subsequently, the victim's credit cards were used at various locations in Virginia Beach totally over $1,000.
The suspects in the attached photos are believed to be responsible for the theft and fraudulent purchases.
This is an ongoing investigation and Virginia Beach Police need your help identifying the suspect.
This offense occurred on Monday, June 15, 2015 at approximately 3:00 a.m. in the 4300 block of Smokey Lake Drive. The male suspect in the attached photos went into the victim's car and took various items.
This is an ongoing investigation and Virginia Beach Police need your help identifying the suspects.
This incident occurred on Wednesday, June 3 at approximately 3:50 p.m. at 1624 Laskin Rd, the Echo Luxury Boutique.  The two subjects in the attached photos entered the store and committed the act of shoplifting by concealing a handbag valued at over $1000. This occurred while the clerk was distracted tending to another customer.
The female is described as 5'5"-5'7" 150-170 lbs. Dressed in a long gray shirt and blue pants.
The male is described as 5'7"-5'9" 200-210 lbs. Dressed in a white polo shirt, slacks, and blue ball cap.
Both appear to be 40-50 years of age and of Mediterranean descent.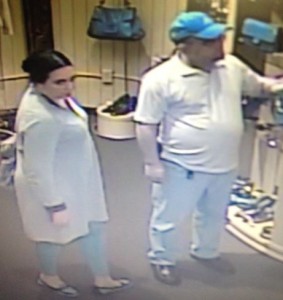 On Friday, May 29, 2015 at approximately 1:45 p.m., Animal Control Officers responded to assist the Virginia Beach Fire Department with an animal involved in a brush fire in the 1200 block of Virginia Beach Boulevard.  Officers found a deceased dog at the scene of the fire.  The dog was an adult medium size female, grey and white in color, believed to be a pit type breed.  Through investigation it has been determined the dogs front and rear legs were bound together and the dog was still alive when set on fire.
Through investigation, Animal Control Officers have located a photo of the dog killed. The photo is from approximately a year and a half ago.
A separate reward is being offered through cumulative efforts of the Humane Society of the United States, People for the Ethical Treatment of Animals, and multiple anonymous citizens. The account is being privately maintained by the Friends of Animal Care and Adoption Center, and is currently for $20,000. All tips should still be called into Virginia Beach Crime Solvers at 1-888-LOCK-U-UP (1-888-562-5887) or by submitting a tip by texting "VBTIP" and the information to CRIMES (274637). The City of Virginia Beach is neither associated with this fund nor responsible for this fund in any capacity.