Current Unsolved Crimes
Virginia Beach Police need assistance in identifying a suspect.
On August 4, 2015 at approximately 9:30 hours, the pictured suspect was involved in an argument with unknown males at the 7-Eleven located at 814 Baker Road.  As the unknown males were walking away, the suspect went into his vehicle where he retrieved a handgun and began shooting at the males.  While shooting at the males the suspect's rounds struck a parked vehicle several times that was occupied. Fortunately, there were no injuries to the occupants of the vehicle.  The suspect then fled the area in a black four door vehicle.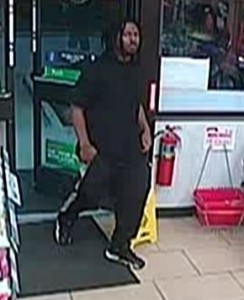 Virginia Beach Police need assistance in identifying a suspect.
On July 31, 2015, at approximately 10:15 am, the pictured individual purchased gas at the Wawa at 201 S. Rosemont Rd.  He then deliberately drove around the back of the store, positioned his vehicle next to the victim's work truck/trailer.  The suspect took a Stihl weed eater valued at 300.00 from the trailer, and fled in the pictured dark SUV.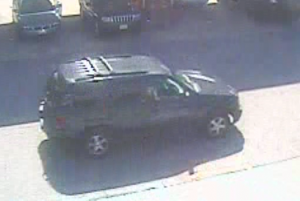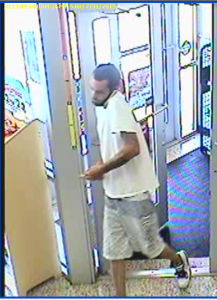 Virginia Beach Police need assistance in identifying three suspects.
On June 22, 2015 at 9:50 pm, these three suspects entered the CVS Pharmacy in the 6000 block of Indian River Road and stole several hundred dollars worth of Rogaine hair products.
These suspects are also suspected of doing the same crime at other pharmacy stores.
Virginia Beach Police need assistance:
On December 27th, 2014 at approximately 5:15 pm, the male suspect was inside Reeds Jewelers (Lynnhaven Mall) and asked to see a Rolex watch. The suspect and employee walked to a mirror in the middle of the store and the suspect ran away with the Rolex valued at $11,000. The suspect is described as a black male, 25-30 years old, 200 LBS, muscular build, gray long sleeve shirt, dark pants, black and white shoes, and glasses.
I first posted this on the Virginia Beach Crime Solvers facebook page last December but the suspect has still not been identified.