Norfolk Police and Virginia Beach Police are working together to identify two suspects in a cloned credit card case.
The victim's credit card information was stolen at a fast food restaurant in Norfolk.  The cloned credit card was then used on April 2, 2016 at 11:10 am at the Walmart on Phoenix Dr.  The suspect (#1) left in a black or dark color Chevy.  The next card transaction was at 7:40 pm at the Walmart at 4821 Virginia Beach Blvd.  The suspect (#2) left in a white Hyundai .
On April 4 at 3:40 pm, the cloned card was used again at the Walmart on Virginia Beach Blvd and the suspect (#1) left in the black or dark color Chevy.  This suspect (#1) also used the cloned credit card at 8:00 pm at Sephora in MacArthur Mall.
Suspect #1: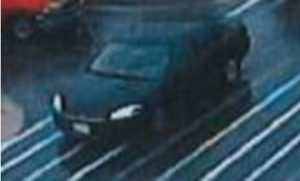 Suspect #2: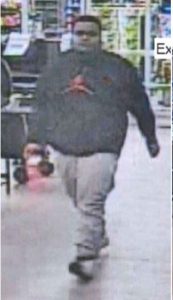 UPDATE 04/01/2016:  Suspect in this case was identified and is currently in custody.
Virginia Beach Police are looking for a man who stole merchandise from the Walmart at 4821 Virginia Beach Boulevard on March 12, 2016.
Police say the man in the security photo entered the store around noon and proceeded to conceal merchandise and then passed all points of sale without paying.  He sprayed a loss prevention officer with pepper spray when confronted about the merchandise.
The suspect is described as being 5'7″- 5'8″, 130-150 lbs, with short twisted dreads, and gold upper and lower teeth.
The man was last seen running east on Virginia Beach Boulevard.
Virginia Beach Police need assistance:
On February 6, 2016, a boat was found sinking in the Marina at the Lynnhaven Boat Ramp on Piedmont Circle in Virginia Beach.
The sailboat was seen smoking in the water of the Marina with about five teenagers in and around the boat.  They appeared to be all white males and females.  One female had long blonde hair.  As soon as the boat started smoking and sinking, the teenagers got out of the boat and got into black Chevrolet Silverado with unknown tags and headed westbound on Shore Drive.  The truck also had a boat trailer attached to it.
It appears from examining the sailboat that the intention was to sink it, as the keel was cut off, the mast was cutoff, and holes were cut specific areas to ensure that it would sink.
Police need help in identifying the teenagers that brought the boat to the Marina as well as the last owner.
Virginia Beach Detectives need assistance in identify a suspect:
On December 22, 2015 at 1:45 pm, the suspect entered the Walgreens at 2400 Atlantic Ave, and went directly to the pharmacy counter.
The suspect demanded prescription pain medicine and threatened the pharmacist.  The pharmacist complied with the demand and the suspect fled the store.
The suspect is described as a white male, 20 – 30 years old, 5'10" – 6′.