Crimes
Virginia Beach Police needs assistance in identifying suspects:
On October 11, 2016, suspects stole tires and rims from vehicles in the parking lot of Mid Atlantic Auto Specialist on Haygood Road.
The suspect vehicle pictured was seen between 2:45 and 4:00 am dropping off suspects at the victim business.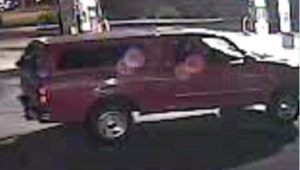 Virginia Beach Police needs assistance:
On August 18, 2016 at 10:45 pm, the victim was vacuuming out their vehicle at the WaWa in the 1400 block of S. Independence Blvd.  The pictured males approached the victim. The first suspect (not wearing a shirt), armed with a firearm, approached the victim and stole the victim's bracelet and wallet.
Suspect 1 – black male, 18-20 years old, 6'0, dark complexion, slim build, wearing a grey shirt (pulled up to conceal face), camouflaged cargo shorts, and a grey fitted cap. This suspect possibly had an unknown tattoo on his right shoulder and was armed with the firearm.
Suspect 2 – black male, seemed older than first suspect, 6'0, heavy build, wearing a long-sleeved white shirt with black stripes and grey sweatpants.
Virginia Beach Police needs assistance:
On September 8, 2016, the pictured suspect was in the Game Stop at 4001 Virginia Beach Blvd.  He picked up several games and two sets of controllers for an XBOX One.  The suspect asked the employee to retrieve another item for him that was located in the back of the store and then ran out of the store with all of the items he already had.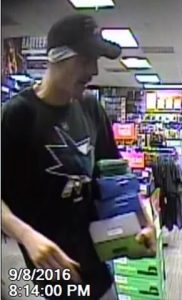 Virginia Beach Police needs assistance in identifying this suspect:
On August 9, 2016, sometime after 10:00 pm, this suspect stole a black Ralph Lauren tote bag from a vehicle parked in the 900 block of Fern Ridge Road.  The suspect is seen on video walking through the parking lot of the Jack Rabbit storage on Lynnhaven Parkway.