Virginia Beach Police needs help in identifying these four suspects:
On August 27, 2016, between 2:30 and 3:00 am, four white males entered the parking garage of an apartment building in the 300 block of Laskin Road and stole several bicycles. It is questionable as to whether or not these suspects are adults so their faces are not shown in these photos.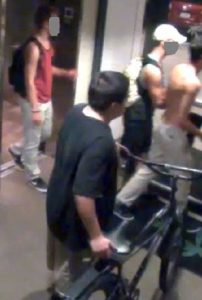 Credit Card Theft and Fraud
Virginia Beach Police needs help in identifying this suspect:
On August 22, 2016, the pictured suspect used credit cards that were stolen from a vehicle at the oceanfront on August 21, 2016.  The suspect used the stolen credit cards at Cycle World.  While talking to employees, the suspect commented that his motorcycle does not have covers.  He has long dreads and was wearing a half helmet while in the store.
Norfolk Police and Virginia Beach Police are working together to identify two suspects in a cloned credit card case.
The victim's credit card information was stolen at a fast food restaurant in Norfolk.  The cloned credit card was then used on April 2, 2016 at 11:10 am at the Walmart on Phoenix Dr.  The suspect (#1) left in a black or dark color Chevy.  The next card transaction was at 7:40 pm at the Walmart at 4821 Virginia Beach Blvd.  The suspect (#2) left in a white Hyundai .
On April 4 at 3:40 pm, the cloned card was used again at the Walmart on Virginia Beach Blvd and the suspect (#1) left in the black or dark color Chevy.  This suspect (#1) also used the cloned credit card at 8:00 pm at Sephora in MacArthur Mall.
Suspect #1: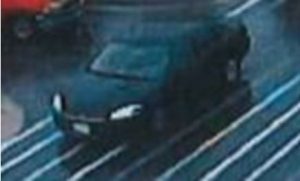 Suspect #2: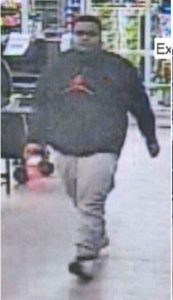 UPDATE 04/01/2016:  Suspect in this case was identified and is currently in custody.
Virginia Beach Police are looking for a man who stole merchandise from the Walmart at 4821 Virginia Beach Boulevard on March 12, 2016.
Police say the man in the security photo entered the store around noon and proceeded to conceal merchandise and then passed all points of sale without paying.  He sprayed a loss prevention officer with pepper spray when confronted about the merchandise.
The suspect is described as being 5'7″- 5'8″, 130-150 lbs, with short twisted dreads, and gold upper and lower teeth.
The man was last seen running east on Virginia Beach Boulevard.