Crime: Burglary/Credit Card Theft/Fraud 2022-031471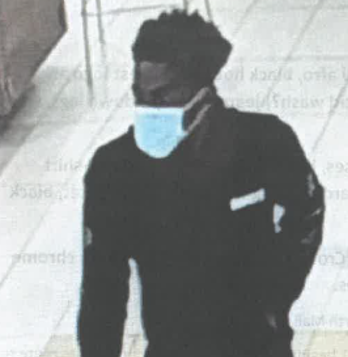 Burglary/Credit Card Theft/Fraud 2022-031471
On 5/18/22, victim was sleeping at Courtyard by Marriott on Greenwich Road and woke up to discover her phone and purse missing from her room. After staff confirmed that the victim's key was the only one to open the room, it was discovered that the door does not secure properly unless force is applied. Multiple bank cards that were inside the victim's purse had been fraudulently used at various locations in Norfolk and Virginia Beach for approximately $1,400.
Suspects:
S1: young B/M, thin build. The male is wearing a blue and white medical mask, a black jacket with white logos, light washed jeans, and black and white tennis shoes.
S2: older B/M, heavy set. The male is wearing dark clothing and shoes, a beanie, glasses, and has a long lanyard hanging out of his back pocket.
Suspect Vehicle: Dark-colored, 4-door sedan, unknown license plates. The vehicle has chrome/silver 5-spoke rims.