Crime: Hit and Run 2022-044959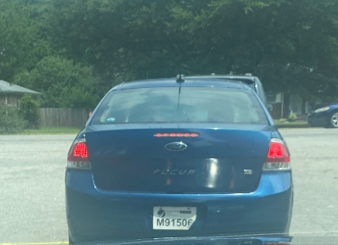 UPDATE: VEHICLE AND SUSPECT HAVE BEEN LOCATED AND ARRESTED.
The pictured vehicle was involved in an accident today, 7/9/22, on or about the 4900 block of Providence Road, in which they fled the scene. At approximately 1 p.m., the vehicle was last seen heading westbound on Providence Road just past Kempsville. The tag is not returning with proper VA registration. It appears that the vehicle in question is the suspected at-fault party.
Suspect(s) / Vehicle(s):  Driver description given was a w/f, 20's to 30's, with her hair in a ponytail. The vehicle appears to be a blue Ford Focus with VA TEMP Tag: M91506.