Crime: Larceny 2022-044942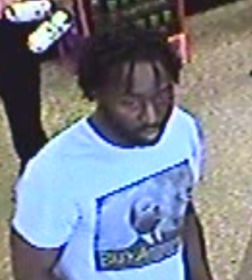 UPDATE: ONE SUSPECT HAS BEEN IDENTIFIED AS JOSEPH D WILLIAMS AND HAS BEEN ARRESTED THANKS TO A TIPSTER WHO IDENTIFIED HIM FOR SEVERAL CIGARETTE AND ALCOHOL THEFT CASES.
On 7/9/22, the male suspect entered Wawa on Ferrell Parkway and asked the clerk for two boxes of Newport cigarettes and a pair of Backwoods Cigars. After the clerk placed the items in a bag, she walked away from the register. Suspect is seen reaching over the counter and grabbing the bag before running out the door.