Crime: Larceny 2022-058923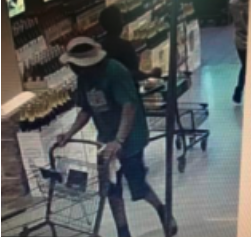 On 9/6/22 at Wegmans on Virginia Beach Blvd., the pictured male filled a cart full of various detergents and food and then left without paying.
Suspect is a B/M wearing a green Philadelphia Eagles T-shirt, dark-colored shorts, slides, and a tan bucket hat. There was another male with him, description unknown. Both males arrived in a white Dodge Magnum with a possible license plate of 32144V, temp tags.