Crime: Larceny 2023-011957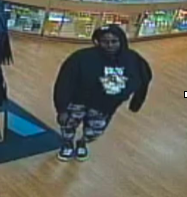 UPDATE FEMALE SUSPECT HAS  BEEN IDENTIFIED AND HAS NOW BEEN ARRESTED WITH 30 WARRANTS FOR LARCENY:
On 3/1/23, Suspect 1 entered the ABC store on Independence Blvd., selected several bottles of alcohol, and left without paying. She was accompanied by another female who walked around, probably to distract the clerks. She never stole anything, but they both left in a dark-colored sedan.
Suspects:  1. B/F, heavyset, wearing a black hoodie, multicolored leggings.
                  2. B/F, medium build, shoulder-length black hair, blue coat with tan bag.