Crime: Larceny 2023022293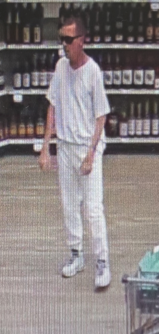 On 4/21/23 at ABC store on Shore Drive, prior to a male and female suspect entering the store together, a white male entered the store and walked around looking at all the alcohol but was not seen taking anything. The white male suspect then left the store, got into a black minivan, and drove around the store. The male and female suspects walked in when the clerk was not at the counter and walked directly to the back stock room for employees. They grabbed two cases, exited out the back door, and got into the black minivan.  
Suspects:  W/M, small build, white shirt, white pants, white sneakers, and black glasses. 
                   B/M, small build, black A&X shirt, white khaki shorts, tan hat, and white sneakers. 
                   B/F, small build, maroon shirt, colored head wrap, jeans, and white sneakers.