Crime: Larceny 2023024423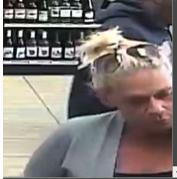 On 5/1/23 at ABC Northampton, the pictured female entered the store, selected several mini bottles of Rumple Minze Schnapps totaling $6.38, concealed them in her bag, and left without paying. She got into an SUV parked at the curb. The employee did not get a tag number.
Suspect: W/F, heavy-set, blonde hair in a high ponytail, wearing a gray cardigan, white pants, black camisole underneath cardigan, and holding a black backpack.