Crime: Larceny from Vehicles 2022-044066; 044067; 044068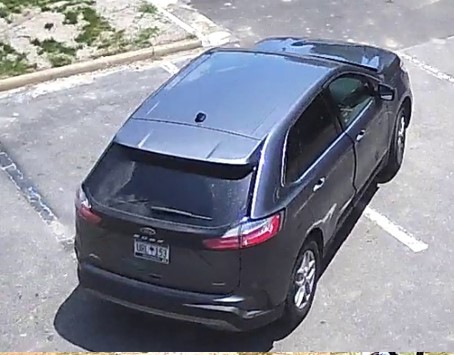 Larceny from Vehicles 2022-044066; 044067; 044068
On 7/5/22, between 1:14 and 1:20 p.m., the pictured subjects entered 3 vehicles in the parking lot of Breeden Company on Lynnhaven Parkway and took items from the vehicles. One of the items taken was a Smith and Wesson .380 handgun. The pictured vehicle was used and comes back stolen out of Norfolk. Vehicle appears to be occupied by 4 suspects.
Suspect vehicle: Vehicle occupied by four, grey Ford Edge, South Carolina tag
Suspect 1: B/M, 18-20s, grey hoodie, green cargo pants, black shoes
Suspect 2: B/M, 18-20s, black hoodie, black jeans, black shoes
Suspect 3: B/M, 18-20s, black t-shirt, black shorts, black shoes
Grand Larceny and Larceny from Vehicles; 2022-045316 -045326 -045329
The pictured vehicle is a stolen auto out of Norfolk. This vehicle was involved in three separate larcenies on 7/11/22 in or around the 5400 block of Greenwich Road; they moved on to the 3rd precinct shortly after. Between approximately 11:30 and 11:50 a.m., the pictured individual was seen getting out of the vehicle and going into other vehicles and taking items. As of now, there is a stolen laptop, 2 cellphones, and other miscellaneous items.
Suspect(s) / Vehicle(s):  Vehicle appeared to be occupied by three black males. The pictured individual: B/M, black Champion hoodie, black shorts, black gym shoes. Vehicle is a 2022 Ford Edge, gray in color, SC Tag: URL153 (stolen).
Stolen Vehicle 2022-045676
On 6/12/22 at 6:59 p.m., victim's vehicle, a white Lexus GS350, was stolen from the driveway of a residence on Braswell Circle.  Suspect exited out of the black pictured SUV.