Crime: Robbery 2022-034529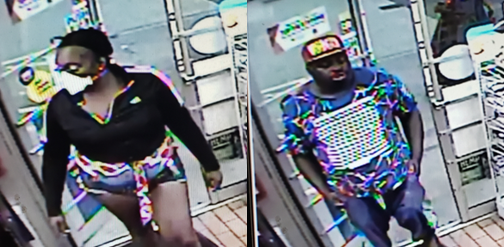 On 5/30/22, at 1500 block of  Diamond Springs Rd (Tinee Giant) the below pictured suspects robbed the business. The male locked the door after entry and the female grabbed the clerk and had a small knife to her neck. The female then slammed the clerks head into the register and had the victim open the register. The suspects left on foot toward Driftwood.
Suspect(s) / Vehicle(s):
Suspect 1: Unknown Black Female dark complexion, approximately 5'4" ft tall. Heavy set, wearing black Adidas coat with three stripes down the shoulders and arms, white medical mask, jean shorts, and white sandals.
Suspect 1: Female was also involved in a robbery in Norfolk earlier in the day.
Suspect 2: Unknown Black male, dark complexion, approximately 6' ft tall, Heavy set, wearing blue multicolored shirt, Blue and white shorts, with a red ball cap and black Nike sandals.