Crime: Robbery 2022-047251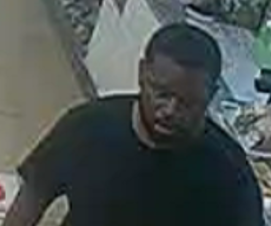 UPDATE SUSPECT HAS BEEN ARRESTED AND IS NOW IN VIRGINIA BEACH JAIL.
On 7/19/22, at 7-Eleven, 2101 General Booth Blvd., the suspect demanded cash from the cashier and then walked out of the store with the contents of the cash register.
 The suspect is described as a black male, 5'7"-5'8", heavyset, in his late 20s-30s, short hair and light facial hair, wearing a black shirt, grey shorts, black flip flops with white writing on them, and white socks.