Crime: Robbery 2022-070935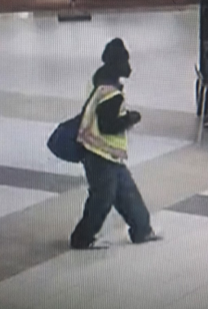 UPDATE SUSPECT HAS BEEN IDENTIFIED AND HAS A WARRANT FOR HIS ARREST.  
On 10/31/22 at approximately 6:10 p.m., a black male entered Macy's from inside Lynnhaven Mall located at 701 Lynnhaven Pkwy. and began concealing items inside some bags that he had on his person. Loss Prevention was watching him on the cameras and contacted police. The man then walked into the back room where only employees were supposed to be and began concealing shoes inside his bags as well. The Loss Prevention security officer went to the back room to confront the man. When he got there, he identified himself as Loss Prevention and asked the man what he was doing back there. The suspect looked at the Loss Prevention officer and made a gun with his hand and made a boom sound. The officer grabbed one of the bags with stolen items in it that was left on the ground by the suspect and explained to the suspect that he was caught on video concealing items. The suspect then pushed the Loss Prevention officer, grabbed the bag, and stated, "Give me that bag." There was a tugging match for the bag. The officer got the bag from the suspect. The suspect then tried to punch the Loss Prevention officer by taking a swing at him and stated, "Give me that bag," and grabbed the bag again. There was another tugging match between the suspect and the officer for the bag with the stolen items. The Loss Prevention officer got the bag back, and the suspect ran off wearing a new pair of Timberland boots that he also stole from Macy's.  The suspect is a black male, 30's-40's, 5'10" to 6', 185 lbs., and was last seen wearing a brown coat, yellow traffic vest, blue jeans, brown boots, black face mask, and a black beanie.