Crime: Shoplifting 2022-036838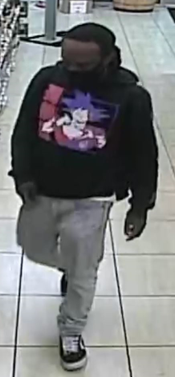 On 6/8/22 at 9:28 p.m., the pictured suspect entered the ABC store located at 5832 Northampton Blvd. and stole 2 bottles of Captain Morgan valued at $17.98.  The suspect concealed them under the front of his hoodie and left the store without paying for them.
Suspect:  B/M wearing black mask, black hoodie with a game logo picture, light-colored blue jeans, black and white sneakers, and a black backpack.