Crime: Shoplifting 2022-059886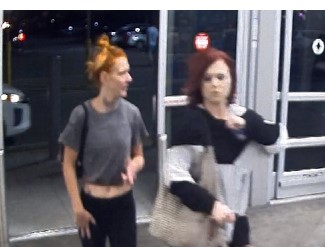 UPDATE ONE SUSPECT HAS BEEN ARRESTED THE OTHER IS STILL AT LARGE:
UPDATE BOTH FEMALES HAVE BEEN IDENTIFIED, ONE WAS IDENTIFIED BY TIPSTER.  WARRANTS FOR ARREST ARE ON FILE.
On 9/10/22 at approximately 8 p.m., 2 females entered the Walmart on First Colonial Road, filled a handbag with various beauty products valued at roughly $107, and then left the store without paying.
Suspect #1: W/F, 20's-30's, light red hair, throat tattoo of eagle, gray t-shirt and black leggings
Suspect #2: W/F, 20's-30's, red hair, gray and blue sweater, black pants.