Crime: Alice Margaret Eskew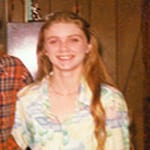 On Tuesday, September 4, 1979, Alice Eskew was last seen at home in the 3100 block of Arctic Avenue.  She left her home walking towards Laskin Road just before dusk.  A missing person's report was filed with police after she failed to return home that evening.  Her body was found on Thursday, September 6, 1979 at approximately 5:00 pm in the densely wooded area of Seashore State Park just off Shore Drive close to the bypass.  Ms. Eskew's body was transported to the Medical Examiner's Office for autopsy.  Alice's cause of death is blunt force trauma; therefore the manner of death was ruled a homicide.
Alice was 18 years old and a very petite white female who was 5' 1'' tall weighing 80 pounds.  She had long blonde hair and dark eyes.