On Friday March 18th Crime Solvers Virginia Beach hosted an officer installation and Awards luncheon. Mayor Dyer installed six Executive Officers for the board, adding two to the original four. Susan Owen, Chairwoman; Mike Carey, Vice Chair; Dan Edwards, Treasurer; Dan Kennedy, Secretary; and Mary Kaye Tyson, Financial Coordinator; and Regan Pulley, Director at Large; were added to the Executive board. Thank you everyone for taking on this volunteer position. We know you will do a wonderful job and we appreciate you.
The Awards:
Homicide Detective Angela Murphy received the Clyde D. Hathaway Memorial Award, for her work on a case where a Crime Solvers tip provided important information to help solve a Homicide.
Officer Hugo Martinez received the Charles R. Wall SRO award for his work where a tip assisted in locating and stopping a potential threat.
Wendy Alexander, ESQ. received the Commonwealth Attorney Prosecutor's Award. Because of a tip, officers were able to locate a hit and run driver who left a motorcyclist on the side of the road, who later succumbed to their injuries. CWA Alexander was able to prosecute the individual to the fullest extent of the law.
Thank you to our Award recipients and Citizens of Virginia Beach for helping keep Virginia Beach Strong.
****************************************************************************************
Since 1982, anonymous tips to Virginia Beach Crime Solvers have resulted in more than 8,100  arrests and more than 16,800 solved crimes. We have received over 39,119 tips. Tips to Crime Solvers has recovered over $43,000,000 in narcotics and stolen property.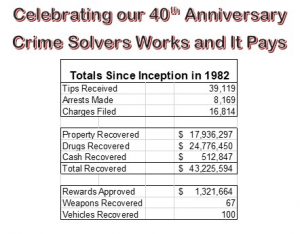 Virginia Beach Crime Solvers has paid out over $1,321,000 in cash rewards to anonymous tipsters. Zero tax dollars are used to pay rewards!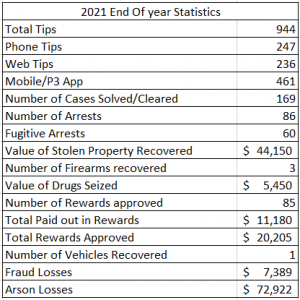 End of year 2021:  With our tipsters help we solved 169 cases. Made 86 arrests. Authorized $20,205 in rewards to tipsters. Recovered $44,150 in stolen property and drugs.  Removed 3 handguns from the street.  Tipsters also helped VBPD solve two homicides both resulting in a reward for the tipster of $1,000.  Thank you.
For the year of 2020 in total, with your help, we made 98 arrests for 193 crimes, and authorized $20,199 dollars in rewards and recovered $77,897 in stolen property and drugs.  Thank you.
For the year of 2019 in total, with your help, we made 92 arrests for 205 crimes, and authorized $17,488 dollars in rewards.  Thank you.
Please see the news release regarding a recent reward: