On Friday January 20th Crime Solvers Virginia Beach hosted an officer installation and Awards luncheon. Mayor Dyer installed six Executive Officers for the board.
Mike Carey, Chairman
Penny Harvey, Vice Chair
Dan Edwards, Treasurer
Dan Kennedy, Secretary
Mary Kaye Tyson, Financial Coordinator
Rick Amelon, Director at Large
Thank you everyone for taking on this volunteer position. We know you will do a wonderful job and we appreciate you.
The Awards
Virginia Beach Crime Solvers Clyde D. Hathaway Memorial Reward
Detective Fred Nunn, Detective Rick Spreder, Officer Adam Murawski and Officer Matt Taylor Solved a case from a Crime Solvers tip regarding suspects stealing items from vehicles, slashing tires of locked vehicles.  The Suspects used stolen credit cards from the vehicles in Chesapeake.  Information was posted to CrimeSolvers.com where a tipster recognized the suspects.  When the suspects were arrested, they were in a stolen vehicle and had two illegal firearms. Three weeks later, during a traffic stop, the suspects brother, who was also identified for the crime spree as well as another crime spree and Burglary, was arrested. Three stolen firearms were seized.  (For a total of 5 firearms.)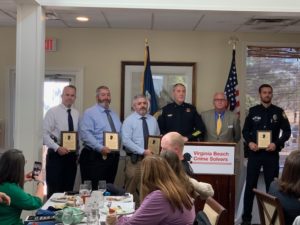 Virginia Beach Crime Solvers Clyde D. Hathaway Memorial Reward Certificate
Master Police Officer Christopher Daley, Master Police Officer Eriald Kera, Master Police Officer Nathaniel Worthing and Police Officer II Rachel Nash each received a certificate of achievement for solving a Hit and Run where a victim died.  The vehicle took off to another state.  Crime Solvers put out the information on the vehicle.  A tipster sent in a tip for the location of the vehicle and the name of the person driving.  They were in a different state. Once positive ID was made, the vehicle was seized, and the suspect arrested.  Thanks to the persistent investigation of the officers and a tipster who frequently looks at the Crime Solvers website and Facebook.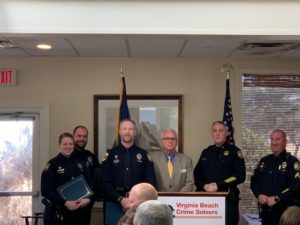 Virginia Beach Crime Solvers Charles R. Wall SRO Award (School Resource Officer)
Officer Cameron Kolmer received three tips regarding drugs and threatened bodily harm at school.  Upon investigation, Kolmer was able to clear these cases and arrest the suspects.  The Drug use case led to further information regarding drugs in school.  The threatened bodily harm case led to charges for grand larceny auto theft, animal cruelty and narcotics possession. The Suspect was arrested.  Thanks to a tipster and an excellent School Resource Officer, these cases were closed.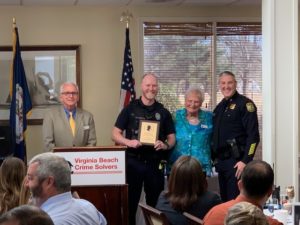 Virginia Beach Crime Solvers Commonwealth's Attorney Prosecutor's Award
Megan Lang, ESQ, has been relentless in her pursuit of justice in 2022.  She successfully prosecuted several defendants who committed murder. Megan won 5 jury trials and 1 Circuit Court bench trial as well as several trials in Juvenile and Domestic Court.  In total, this accounted for 16 defendants' charged with murder, violent significant injury crimes and/or sexual assaults against women and children, with over 250 year of active sentences.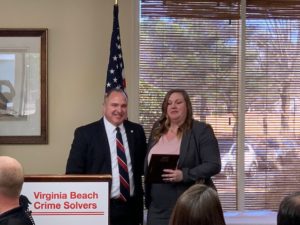 ****************************************************************************************
Since 1982, anonymous tips to Virginia Beach Crime Solvers have resulted in more than 8,100  arrests and more than 16,800 solved crimes. We have received over 40,000 tips. Tips to Crime Solvers has recovered over $43,385,000 in narcotics and stolen property.
Virginia Beach Crime Solvers has paid out over $1,341,000 in cash rewards to anonymous tipsters. Zero tax dollars are used to pay rewards!
End of year 2022:  With our tipsters help we solved 183 cases. Made 76 arrests. Authorized $20,095 in rewards to tipsters. Recovered $156,300 in stolen property and drugs.  Removed 23 handguns from the street.  Because of tipsters we recovered 5 catalytic converters and 3 vehicles.   
Thank you.
Please see the news release regarding a reward: