Crime: Anastasia Christou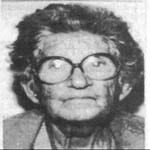 On Friday evening just before sundown on July 15, 1988, Anastasia Christou returned to her home located in the 300 block of  25 Half Street, just three blocks from the Atlantic Ocean.  This was the last time she would be seen alive.  On Saturday, July 16, 1988, a half hour past noon, her son found her suffering from wounds received from a beating.  As a result of these wounds, Anastasia died.  Force was used to gain entry into the home while the victim slept.  The investigation revealed theft as a possible motive for this viscous murder.
Ms. Christou's body was transported to the State Medical Examiner's Office for autopsy.  The manner of death was ruled a homicide.  She was a small white female who stood about 4' 11'' tall weighing 129 pounds at the time of her death.  She had dark brown eyes and grey hair.  She walked everyday between her home on 25 Half Street to the market and to her family business located at the oceanfront.