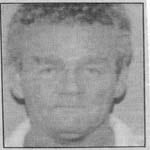 On Wednesday, November 2, 1988 at approximately 5:15 pm, a report of gunfire in the area of Cleveland Street and Pennsylvania Avenue to Virginia Beach 9-1-1 .  Police responded to the area and found Autry Church suffering from a gunshot wound.  He was shot while sitting in the driver seat of his black Pontiac Fiero which displayed a Virginia License.  Rescue arrived and performed life saving procedures.  In spite of this attempt, Mr. Church died of his injuries.  His body was transported to the State Medical Examiner's Office for autopsy.  The manner of death was ruled a homicide.
Witnesses described a white male, about 5'9'' tall with a medium build, dark hair wearing white pants standing near the victim's vehicle at the time the shots were heard.
Mr. Church was a 50 year old white male who had blue eyes, black collar length black hair, 5' 8'' tall weighing 175 pounds.  He worked in retail sales.