Crime: Brenda Joi Bancroft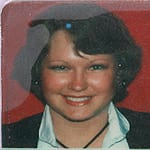 On Monday evening, December 24, 1979, Brenda Bancroft was last seen by her family in the 4100 block of Thalia Drive.  She had left her parent's home driving her 1978 orange Datsun B-210 sedan and was due home later the same evening.  She attended a Christmas Party at Admiral Nicks Restaurant located in the 8100 block of Shore Drive in Norfolk.  A missing persons report was filed by family members.  On Friday, December 28, 1979, Ms. Bancroft's deceased body was found in the 500 block of Spring Lake Crescent which is a short distance from her home.  Her body was transported to the State Medical Examiner's Office where the cause of death was determined to be suffocation.  As a result, Brenda's death was ruled a homicide.
Brenda was a 20 year old white female who had light brown hair, blue eyes, 5' 5'' tall weighing 153 pounds.  When Brenda did not wear her contacts, she wore prescription glasses.