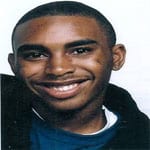 On July 14, 1993 at 10:30 pm, Virginia Beach Police responded to a report of gunfire in the 3700 block of Mainsail Court in the Twin Canal apartment complex.  When officers arrived on scene, they discovered 19 year old Dedric suffering from a gunshot wound to the head.  He was transported to the hospital where he died from his injury.
Witnesses described to investigators an argument between the victim and two other black males had occurred just before the shots fired.  Dedric Mason was seen falling to the ground after he was shot by one of these black males.  The suspects were seen running from the scene and get into a dark colored vehicle, possibly a Cadillac Seville or El Dorado with temporary tags.  The vehicle was last seen traveling south on Lynnhaven Parkway.  Dedric's death was ruled a homicide by the State Medical Examiner's Office.
Dedric was a black male who had brown eyes, black hair, 5' 11'' to 6′ 1" tall weighing 147 pounds.