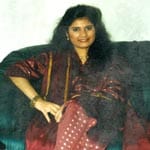 On Friday, March 5, 1993, Harleen Singh was reported to the Virginia Beach Police as a missing person by her father and estranged husband.  She had last been seen on March 4, 1993 at approximately 6:00 pm leaving her employment, Essex Corporation located in the Reflections II Office Building, 200 block of Golden Court.  Mrs. Singh had advised friends and family she was meeting her husband at their private business: Ultimate Beauty Supply Store, located in the Wards Corner Shopping Center off of Granby Road in Norfolk to complete tax forms.  Harleen was seen driving her four door, gray 1991 Honda Accord.
A gray Honda with a body inside was found in the back parking lot of the Wendy's Restaurant located at the intersection of Independence Blvd. and Bonnie Road.  Police and rescue were called to the scene.  The female found in the car was deceased and later identified as Harleen Singh.  Her body was transported to the State Medical Examiner's Office for autopsy.  She had died from being shot in the head.  The manner of death was ruled a homicide.
Harleen was a 26 year old petite Indian female who had dark brown eyes, black hair, 5' 3'' tall weighing 113 pounds.