Crime: Larceny 2023036973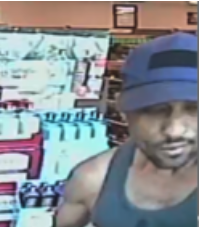 On 6/30/23, the pictured subject entered the ABC store on Northampton Blvd., grabbed a reusable store bag, filled it with multiple bottles of Hennessey, and then walked out without paying. Subject is the same as in a previous larceny at this location, 2023033996.
Suspect: B/M, black T-shirt, dark shorts, grey tank top, navy blue hat, white Nike sneakers.