Crime: Larceny 2023039891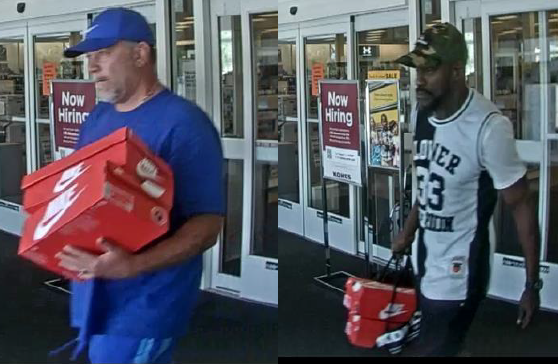 On 7/12/23, the pictured males arrived together at Kohl's on Princess Anne Road in a blue Mitsubishi SUV. The white male went in, grabbed a mesh bag, and loaded six pairs of Nike shoes into the bag. The black male then came in, picked up the bag, and walked out past all points of sale. The white male then walked out with two other pairs of Nike shoes past all points of sale.
Suspect 1: B/M, 30s-40s, black beard, wearing camo ball cap, black and white jersey w/ white T-shirt underneath, black shorts.
Suspect 2: W/M, 40s, grey beard, wearing a blue Nike ball cap, blue shirt and shorts.
Vehicle: Newer model blue Mitsubishi, unknown tag.