Crime: Larceny 2023039892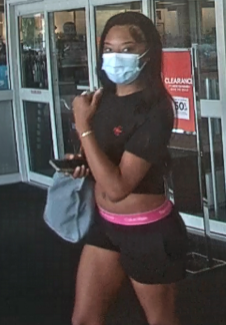 On 6/27/23, the pictured female, accompanied by a second female, entered Kohl's on Princess Anne Rd. and went straight to the Adidas section where she stashed clothing in her bag. She then went to the Sephora section and hid three bottles of body cream in the bag. Both females then walked out past all points of sale and got into the pictured silver Honda Civic.     
Suspect: B/F: 18-25 years old, wearing black crop-top, black shorts, blue medical mask, carrying blue shoulder bag.
Vehicle: silver Honda Civic.