Crime: Larceny 2023055020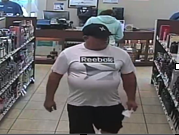 On 9/25/23, a W/M entered the ABC store on Northampton Blvd. to look around for alcohol on a list he had in his hands. A B/F entered shortly after and joined him. She did not take anything but the male grabbed 3 bottles of Macallan Sherry Oak Scotch and both individuals left without paying.
Suspects:
W/M, heavyset in the stomach area, clean-shaven, possibly in his early 40's, wearing a Reebok white T-shirt, black shorts, black Under Armour ball cap, white sneakers.
B/F, medium build, hair pulled up, wearing a teal-colored hoodie, spandex pants, carrying a green tote with flowers on it.