Crime: Larceny 2023057373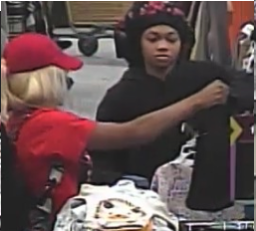 On 10/08/23 at approximately 2:50 p.m., two black females entered the T.J. Maxx located at 2356 Virginia Beach Blvd. and started to load up a shopping cart with clothing and other items. They made their way to the front door and then left the cart and walked outside. Shortly after they left, Suspect#1 returned with another black female and started loading up a shopping cart with items. The two suspects then gathered all of the items in their arms and proceeded to the front where they left the store without paying. Loss prevention was able to get all the items and the suspects left the scene in a 2014 white Nissan Versa.
Suspect 1: B/F wearing a red ball cap, black mask, red shirt, black pants, possible first name Amiya.
Suspect 2: B/F wearing black hoodie, black bonnet with red rose pattern, black and blue checkered pants.
Suspect 3: B/F wearing a black hooded sweatshirt with white writing on front and "Jones" and the number "6" in white on the back, with dark flannel pants.