Crime: Louis Anthony Barone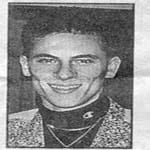 On Wednesday, November 6, 1996, Police were called to the 100 block of Castilian Drive for a report of gunfire.  Moment's later police discovered a male sitting in a dark colored 1992 GMC pickup suffering from a gunshot to the head.  Rescue transported the victim to Virginia Beach General Hospital where he died.  The victim was identified as Louis Anthony Barone, a 26 year old white male.  Witnesses described hearing a gunshot about 5:45 pm and then observed a white male exit the dark colored GMC pickup and get into the passenger side of a light blue or silver colored Chevrolet Camaro driven by another person and leave.  The Camaro had a loud exhaust system.
The State Medical Examiner's Office ruled this death a homicide.
Louis was 26 year old white male, who had brown eyes, black hair, 5'8''tall weighing 140 pounds.