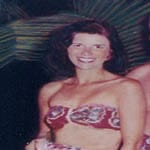 Cold Case
Patsy Bray Cowan
On Thursday, October 9, 1980, Patsy Cowan had attended a picnic in Chesapeake, Virginia from the late afternoon hours until around 7:30 pm.  A local builder invited real estate agents and builders from the Tidewater area to a large cookout where plans for a new development, on the land where this picnic occurred, was announced.  Patsy was seen arriving and leaving alone in her 1976 dark colored Oldsmobile.  She returned home in the 4400 block of Smokey Lake Drive, a new housing development, at approximately 8:15 pm.  She was found at approximately 11:45 pm, nude and suffering from several stab wounds.  There did not appear to be any forced entry into the home.  A handgun kept inside the home by Ms. Cowan is missing and is described as a Smith and Wesson "top break, Lemon Squeeze" nickel plated .38 caliber revolver.  The person(s) responsible for this brutal murder is suspected of taking this weapon.
Patsy was a 50 year old white female who had brown eyes and brown hair, 5' 5'' tall weighing 120 pounds.  She looked younger than her age.
Have information about this crime?
Anyone with information regarding this crime is encouraged to call Virginia Beach Crime Solvers at 1-888-LOCK-U-UP (1-888-562-5887). You can also submit a tip via P3tips.com or by downloading the P3 Tips app available in Apple iTunes and Google Play stores. Tipsters will remain anonymous and could be eligible for a cash reward up to $1,000 if their information leads to an arrest.