Crime: Rafaella G. Bryant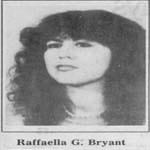 On Tuesday, July 16, 1985 at 5:30 am, Virginia Beach 9-1-1 received a report of a car fire in the 4100 block of First Court Road.  The Fire Department along with Police responded and found a vehicle completely consumed with fire.  Once the fire was extinguished, a body was found inside the passenger compartment of a 1972 green Dodge Swinger with a vinyl top bearing a Pennsylvania license plate.  Fire and Police investigators converged on the scene and began a very exhaustive investigation.  Fire investigators discovered the fire was intentionally set after the car was driven into the field where it was found.
The body was transported to the State Medical Examiner's Office for autopsy.  The cause of death was asphyxia and the manner a homicide.  The body was identified as Raffaella G. Bryant, a mother, who worked at an oceanfront restaurant, the Lemon Tree, located at 18th Street and Atlantic Avenue.  She had last been seen leaving her employment around midnight to pick her son up at the babysitters and before returning home.  Raffaella's purse was found along Shore Drive about a mile from Atlantic Avenue.
Raffaella was a 20 year old white female who had dark brown eyes with black hair.  She was 5'6'' tall weighing 125 pounds.