Crime: Rudolph Stewart Jr.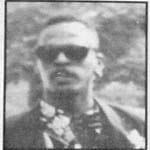 On Thursday, April 17, 1997, at 6:00 pm, Virginia Beach Police were called to the 5500 block of Diamond Springs Road for several reports of gunfire.  Police found a man lying in a driveway suffering from several gunshot wounds.  Paramedics pronounced the victim deceased.  The body was transported to the State Medical Examiner's Office for autopsy.  The victim was identified as 39 year old Rudolph Stewart Jr.  This case was ruled a homicide.
A blue Toyota was seen leaving the area right after the shooting at a high rate of speed.  This vehicle was last seen heading east on Aurora Drive.
Rudolph was a 39 year old black male who had brown eyes, black hair with a full beard.  He stood 5' 6'' tall weighing 160 pounds.