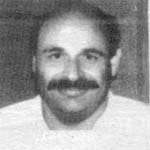 On Thursday, October 10, 1991 at 9:15 am, Samuel Baruch arrived at his business in the 300 block of Birchwood Park Drive.  Mr. Baruch was seen leaving the business location alone while driving his full sized Grey Mercury Marquis, but he returned where he was found shot to death lying in a pool of blood next to a safe within the business.  Mr. Baruch's body was transported to the State Medical Examiner's Office for an autopsy.  The cause of death was a gunshot wound with the manner of death ruled a homicide.
Investigators discovered the victim's grey Mercury Marquis missing from the business, but was found a short distance away at the Pembroke Mall Parking lot.  The apparent motive for this brutal murder was robbery.
Sam was a 34 year old large white male who had brown eyes and brown hair around the sides and bald on top of his head, 6' 3'' tall weighing 250 pounds.  He also had a large dark brown or black mustache.